Local Enhancement & Appreciation of Forests
LEAF is a non-profit organization dedicated to the protection and enhancement of the urban forest. We offer programs that help you plant, care and give.
Plant
Our Backyard Tree Planting Program offers native trees and shrubs to property owners at a subsidized cost.
Our arborists will help you make an educated decision about the type of tree that best suits your property. Find out which one of our programs is right for you!
Blogs
On the morning of Saturday, September 15th community members from the King area joined LEAF, the Township of King and the Reginal Municipality of York for a public tree planting event! Even though it was a hot, balmy day, energy levels were high and everyone's excitement could be seen as tree after tree went into the ground.
As part of LEAF's 2018 Young Urban Forest Leaders (YUFLs) program, Armita, Farheen, Megan and Sneha joined efforts with Our Place Initiative to launch a new Adopt-A-Park-Tree program in Centennial Park. To introduce the program, a public Tree Tour and stewardship event was held at the park on Sunday, August 26th, 2018. Though it was a hot summer afternoon, there was great community turn out with lots of excitement, energy and great stewardship spirit!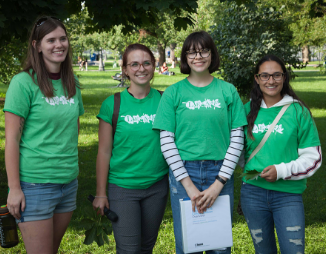 On August 22nd, members of the community congregated for an informative tree tour through Trinity Bellwoods Park. Over the summer, four of LEAF's 2018 cohort of Young Urban Forest Leaders (YUFL), Stephanie Clark, Sam Hayden, Julia Spina, and Melissa Szopa, worked with the community group Friends of Trinity Bellwoods to prepare for this event.
Events
Join us for a delightful afternoon of drawing in Silverpoint! Participants will create original Silverpoint leaf drawings sketched onto specially prepared paper made from stone that will gradually take on warm brown tones as it ages. Beginners welcome. This event will be held indoors.