Local Enhancement & Appreciation of Forests
LEAF is a non-profit organization dedicated to the protection and enhancement of the urban forest. We offer programs that will help you plant, care and give.
Plant!
Our Backyard Tree Planting Program offers native trees and shrubs to property owners at a subsidized cost.
Our arborists will help you make an educated decision about the type of tree that best suits your property. Find out which one of our programs is right for you!
Blogs
LEAF interviews local Junction artist, Nicola Woods, about her upcoming art exhibit as part of the Scotiabank CONTACT Photography Festival. The project features beautiful 'portraits' of the Junction's street trees.
Trees are valued for the many benefits they provide to our global landscapes. They offer us shade on hot days, provide important habitat and food for our native wildlife, combat climate change by sequestering carbon, increase property value and improve mental health – just to name a few! In honour of Earth Day, I want to share one particular benefit of our trees – their ability to decrease stormwater runoff and filter pollutants!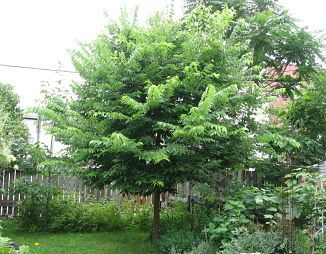 A hardy, urban shade tree, the hackberry (Celtis occidentalis) can easily withstand strong winds, pollution, heat, salt, and tough soils, while still adding visual interest and beauty to a landscape. This tree often flies under the radar, but its ability to attract a variety of wildlife makes it the perfect tree to help you create a diverse ecosystem in your own backyard.