Suzanne
Freeman maple and basswood – planted in spring 2012
Freeman maple – planted in fall 2015
Freida the Freeman was just the size of a broom handle when she was planted, and she's growing well! We love the dappled sunlight that comes through her big leaves, and her gorgeous fall colour. She's just beautiful! LEAF was great throughout – 10/10!
---
Abby
purple flowering raspberry, fragrant sumac, pagoda dogwood, sugar maple, Kentucky coffeetree, pussy willow, red osier dogwood, and eastern redbud planted spring 2012
We didn't have any trees or shrubs previously, so we took the advice of LEAF as to what mixture of plants would be suitable for our soil – which paid off! We like the variety, and that each tree and shrub serves a different purpose – adding shade, covering a lamp post, and providing privacy, among others. We love spending time as a family in the yard now, and our success with the trees inspired us to start a vegetable garden. Working with LEAF was a really good experience – they followed up with us and answered all my questions, and I am looking to purchase fruit trees with them in the future!
---
Beatrix
paper birch planted in fall 2006
We call our tree The White Pillars – it supports a canopy of shade in our backyard. We think paper birch trees are very graceful, elegant looking trees, and it gives the dappled shade that we were looking for. It makes us think of Group of Seven paintings, quintessentially Canadian. Our whole family enjoys this tree – we had LEAF plant it the summer our son was born, which lets us track how old it is. They've both grown so much! The planting went smoothly, and the check-ins have been helpful to reassure us that the tree is in good health and well pruned.
---
Julie
lowbush blueberry shrubs planted in spring 2015
Our family goes to Newcastle every year to pick blueberries, and this year we decided to plant our own bushes and save the drive! We wanted to grow stuff to eat – if you're gonna put in the work, you might as well eat it – and were excited by the fact that LEAF offered native varieties. The kids love the sweet little berries, and they freeze well, so it was a great choice for us!
---
Alex
ironwood planted in fall 2012
We knew going in that we wanted to add shade and attract birds to our backyard. LEAF suggested the Ironwood, and we like the shade and the flowers. We enjoy "Gentle Jim," and the finches, blue jays, and cardinals it attracts, every time we are on the deck, and look forward to it growing bigger.
---
Jerr
y
grey dogwood and sugar maple planted in fall 2006
I have always loved maples, especially their beautiful fall colour. We lost a beautiful maple tree from our yard, and chose LEAF for the replacement. The service was great, and the entire family enjoys our new trees!
---
Leigh
Freeman maple planted in fall 2013
I lost an ash tree a while back, which was so upsetting, so I needed a good shade tree to replace it. "Big Red" has grown so fast, and has great fall colour – the dog and I both love it! LEAF was fabulous to work with, especially in the check-up after planting. You couldn't ask for a better organization!
---
Lynn
Small Butterfly Kit and meadowsweet planted in spring 2012
I attended a lecture where LEAF was presenting, and loved the sound of their native plant kits. Since having our kit delivered, we've had lots of beautiful flowers, and many visits from wildlife, including birds, squirrels, butterflies, rabbits, and bees. We are especially excited about attracting the bees, as they help us pollinate our veggie garden! LEAF's service was great, and we are very happy. 
---
Aysha
hackberry and Freeman maple planted in spring 2008
Large Bird Kit delivered in spring 2013
We chose to plant with LEAF because we wanted to give back to the environment. I love that the kit and trees are native species, and that they have given my boys a chance to see nature at its best. We especially love the kit, with its beautiful colours. It has attracted birds, bunnies, and other wildlife to our yard, and we'd like to expand it in the future. Working with LEAF has been amazing – their service is outstanding, and the follow-up is really great. I highly recommend the program!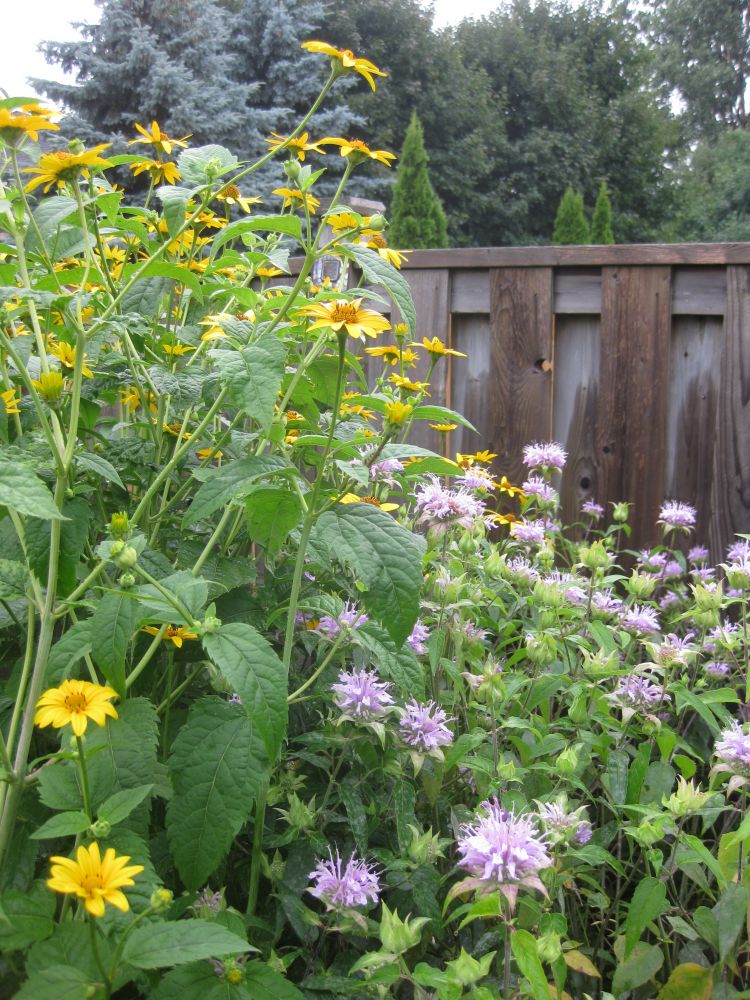 ---
Neil
Kentucky coffeetree planted in fall 2012 
I wanted to choose a tree for the garden that was nice to sit under and offered some shade, but allowed enough sun to get through so that I  could still garden underneath it. LEAF helped me choose the elegant, unusual Kentucky Coffeetree, which is very exotic looking and gracious with its big leaves. Overall, the program has been fabulous!
---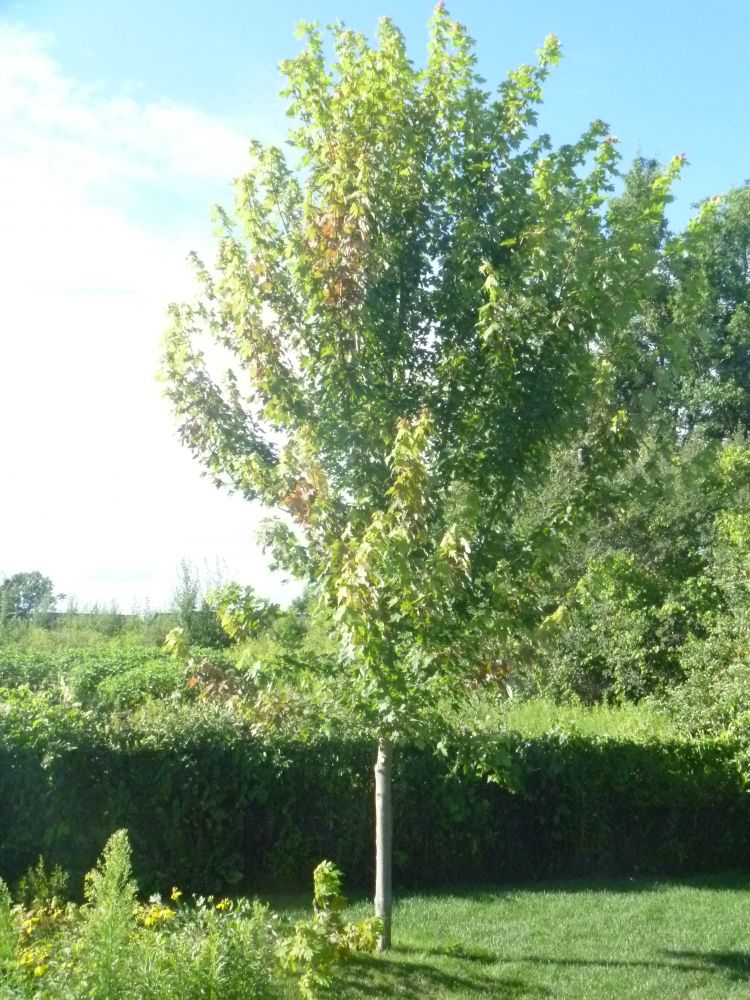 Brian and Shelley
Freeman maple and grey dogwood planted in spring 2012
I named our trees after my children – the Freeman Maple is Stephanie and the Grey Dogwood is Jordan. I talk to them every day, and get great pleasure from seeing them grow. With current health problems, it's nice for my husband to come out and hear the wind in the trees – it's very therapeutic. It's so quiet, an escape. My little paradise. The people at LEAF were professional, courteous, and knowledgeable – I would recommend the program to anybody and everybody!
---
Patricia
red maple and sugar maple planted in spring 2007
We have two kids, and chose a tree for each of them. Now our backyard is the neighbourhood bonanza: lots of kids come to play, and we all enjoy the shade and the beautiful fall colour. LEAF's program was great from start to finish, and made purchasing and planting our trees so easy! 
---
Mukib
Freeman maple planted in fall 2013 
My experience with LEAF has been excellent. I planted a Freeman Maple in October 2013, and after the terrible ice storm that December, it was bent at almost 90 degrees from the center of its trunk. I was very sad to see this, and thought I had lost the tree. I took a couple of photos and sent them to LEAF, asking what could be done to save it. One of the arborists from LEAF responded, saying that the tree looked healthy in the photo, and that they would come to stake the tree in spring to straighten it, which I was elated to hear. When the arborists arrived, I was amazed at their professionalism and the way they straightened the tree. They asked me to remove the stakes after one year. I was surprised and immensely happy that LEAF did not charge any service fees from me. When I removed the stakes as directed, the tree not only became straight, but grew into a very healthy and robust tree. Watching and observing the changes and growth of this maple tree gives my family constant joy and pleasure, and encourages us to spend time in our backyard! Needless to say I'm extremely satisfied and happy, and I recommend LEAF to all my friends, neighbours, and colleagues.
---
Karen
Large Bird Kit, serviceberry shrubs, and red osier dogwood shrub planted in 2012
We wanted a combination of plants that worked well together, and we've loved the different colours that appear throughout the year. The plants from LEAF beautify our lawn and attract family, neighbours, and bees alike (we've never been stung)! The experience was fabulous – the kit came right to our door, and had everything we need!
---
Sandra
honey locust planted in spring 2010
My favourite thing about our new tree is the breadth of its canopy. It has a nice shape, and lots of foliage that provides a dappled shade. My partner retired around the time this tree was planted, and he enjoys seeing it out the kitchen window every day. It has seemed to take to the yard, and looks to be flourishing! 
---
Warren
silver maple and spicebush – planted in spring 2014
Our silver maple is special because it marks the beginning of our lives at our new home! We had to replace a dead ash tree shortly after moving in – we wanted something hardy and fast growing, and we've been amazed at how quickly our silver maple grew, providing some much needed shade and privacy. LEAF offered us excellent service and communication – the follow up is particularly great.
---
David
Freeman maple planted in fall 2013
With over 700,000 ash trees in York Region's urban areas at risk of infestation and death due to the invasive Emerald Ash Borer (EAB), planting new trees is more important than ever. On National Tree Day, 2013, we visited the home of Markham resident David Susilo, who was happy to do his part to help our urban forest by planting a tree through our Backyard Tree Planting Program.
http://www.youtube.com/watch?v=UlY7nYeBxYk
---
Cathy
red maple and swamp white oak planted in 2013
We had to cut down two trees and were required to replace them with large native trees. We had our consultation and decided on a red maple and a swamp white oak. I am glad that they will grow into large canopy shade trees that we can enjoy as a family!
---
Janet
tulip tree and serviceberry planted in 2011
We originally selected our trees to increase privacy and because I believed they were fast-growing. I also love the leaf shape and bushiness of them. The family, as well as our neighbour, love the trees, not to mention the robins. This was one of the first selections we made that has actually grown. My son, who was 6'5" when the tree arrived, was shocked that it outgrew him. Now he is 23 years old and wants to climb it!  If I had to name it I would call the tree Shaquille O'Neal because it grew so big and healthy. LEAF has been awesome -- fast service and great people. It has been a great experience and we have recommended the program to friends.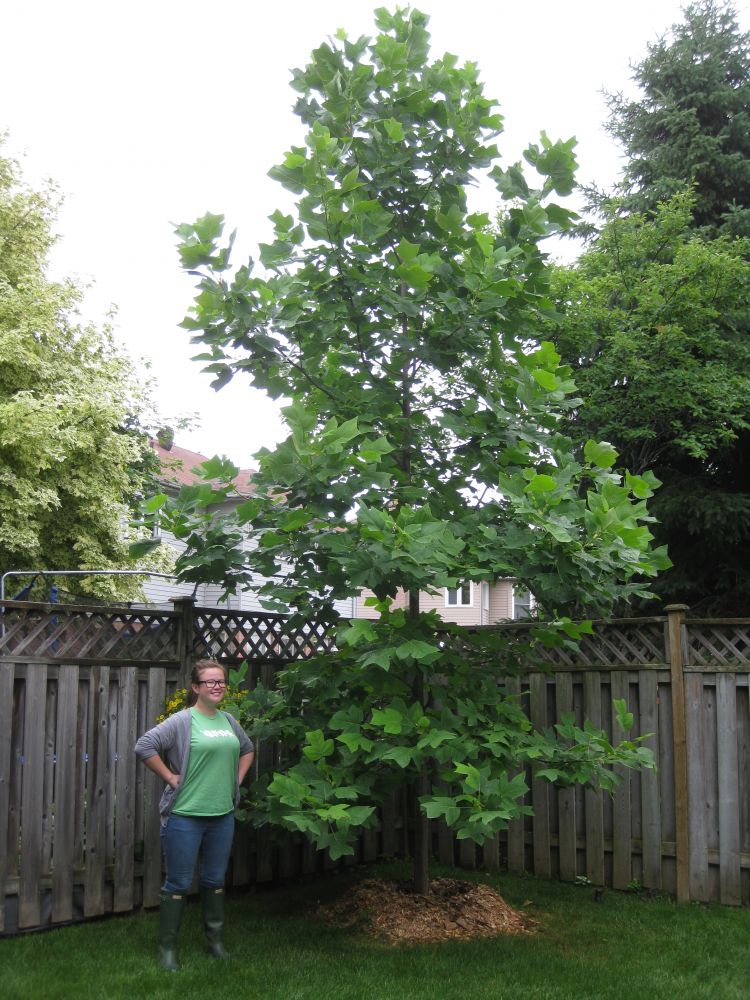 ---
Shelley
Freeman maple planted in 2012
We chose our tree because we wanted the red colour in the fall, it would grow fast, it was recommended and it is just a beautiful tree! We like watching the wind blow through the layers of leaves the most and our whole family enjoys it. This tree is very special to me -- I named it Jordan after my son and it has been wonderful to see it grow and thrive. It attracts wildlife and it's soothing to watch. My experience with LEAF has been wonderful! They are very knowledgeable and it is very helpful being able to call and ask questions. It gives you peace of mind.
---
John
serviceberry tree and red osier dogwood shrub planted in 2012
We chose the serviceberry tree based on the recommendation of an arborist. We enjoy the tree not only for the fruit but also for the height. It will provide privacy but will stay a bit smaller than the other trees, and our dogs will appreciate the shade! The red osier dogwood shrub provides great coverage and will be great for increasing privacy. We've named it Suzie the shrub, and the serviceberry is Fred.  We are happy to have this tree to replace what was lost in the ice storm. We are extremely happy with LEAF and would recommend them to anyone. The staff is helpful and knowledgeable and the prices are great! It is a great program!
---
Nadia
grey dogwood, sugar maple, tulip tree, black cherry and honey locust planted in 2014
After researching different trees on LEAF's website we were able to decide on the trees we chose. We really like how the trees have been planted together and that they offer such variation in size and colour. With four kids our family enjoys the beauty and serenity our trees offer us. Our friends have also commented on how nice they look in our backyard. Our trees are a symbol of our love for the nature around us. We are highly satisfied with LEAF! Brenna and Jen were professional, courteous and patient when dealing with us and all our questions. My kids still talk about how fun it was that day when Brenna and Jen came to plant the trees!
---
Rebecca
Freeman maple planted in 2009
I had always wanted a tree in my backyard and now I enjoy the red colour in the fall and listening to the leaves blowing in the wind. My family and I really enjoy the tree; it brings us closer to nature and the outdoors. When I first bought my house I knew nothing about gardening or trees so when I heard about LEAF it became possible for my dream of a tree to come true. It is so simple and people take trees for granted but when you are new to Canada you don't take anything for granted. I would have never gone out and bought a tree to plant myself so LEAF made all the difference! 
---
Mary Jo
red maple planted in 2010
I love red maples because of their colour in the fall and they have a nice structure. My husband and I, as well as our children when they come to visit, enjoy the tree. The tree is named Mable the maple! It is so Canadian and a native species. LEAF is wonderful! Panicking as a mother to a new tree they give advice and provide great follow-ups. 
---
Bob & Marlene
Freeman maple planted in 2009
The Freeman was the right fit for our yard given its size, it is drought and pest resistant and we really wanted a maple. We have loved the shade it has provided in the summer. Its name is Majestic, named for its fast growth and height; it protects us from the sun, and can hold its own! It was planted when we were in the emergency room so it was a nice present to come home to. Our 11 month old daughter loves touching the leaves. We would like to press a nice red leaf in a book. LEAF was phenomenal, and I cannot say that enough! I don't understand why more people don't take advantage of the program?! They are responsive and the follow ups are a great perk because it's always good to know how well the tree is doing.
---
Carol
tulip tree planted in 2010
We used to not be able to sit in our sun room because it would get too hot, but we enjoy it very much now because our tree provides so much shade.  We chose it because it is fast-growing and to provide shade and privacy, and it has done a beautiful job. LEAF has an excellent program and we are impressed with both the products and services. We are actually thinking about planting another tree! [and they did – a Freeman maple in fall 2014!]
---
Brigita
red oak planted in fall 2008
Brigita chose to plant a red oak on her property because her father loved oak trees. "It was a sentimental choice," she says.  She is happy to report that it is growing quickly and providing the privacy she wanted in her yard.  In fact, it is growing so rapidly, that she will soon have to relocate her vegetable garden out of the tree's shade!
---
Luba
honey locust, Freeman maple, and 2 hackberry trees planted in spring 2008
Luba chose to plant a honey locust, Freeman maple and two hackberry trees in her yard. She was particularly interested in planting native species because she wanted four trees that will require little maintenance once established. So far, she likes the honey locust the most, as it is exhibiting the fastest growth rate among the group!
---
Alan
blue beech and tulip tree, planted in spring 2008
Back when he had his consultation in 2008, Alan selected two trees for his yard: a tulip tree and a blue beech. He chose the tulip for its bright flowers and because it would serve as a source of nectar for insects. Alan picked a blue beech for his second tree, as he had one in his yard while growing up has always liked the way it looked.  As an added bonus, beech nuts also provide great food for wildlife! Soon after the beech was planted, the neighbour's cat took a liking to the tree, using it as a scratching post. Alan was concerned that the young tree would not survive for this reason, but it seems to be doing well now!
---
Elsje
silver maple and black chokeberry, planted fall 2008
Elsje chose to plant these particular species because she learned during her arborist consultation that they were well-suited to the clay soil on her property. She also wanted something that her whole family could enjoy, as well as something the local wildlife would appreciate. Birds, bunnies and squirrels seem to love the tree, and even the pet guinea pig appears quite fond of the silver maple (she gravitates towards it whenever she is let out to play in the yard). The tree and shrub now provide a very beautiful view in the backyard, and shade the kitchen window. Elsje's family loves to hear the sound of the leaves rustling when they blow in the wind.
---
Sam
Freeman maple, tulip tree, basswood planted spring 2008
Sam selected these three different trees to be planted in his yard because they would exhibit a variety of forms, sizes, and colours. So far, his favourite tree of the bunch has been the tulip, as it has shown the fastest growth rate and is very hardy.