Submitted by

Guest Blogger

on July 31, 2014
As I watched a crowd of close to 100 people gather on the corner for LEAF's Old East York Tree Tour last Sunday, I spotted several experts and leaders in the tree and nature world!
To begin, Leigh Davidson, a vibrant and passionate tree person and co-leader of the tour, welcomed us. Leigh is co-chair of the newly formed MoreTrees29, a group working to promote tree planting in Ward 29. Members of MoreTrees29 greeted us as we arrived and offered us a brochure with recommended native trees for the neighbourhood.
The land we were walking on had historically belonged to the Taylor family who owned over 4,000 acres in the east end and developed paper mills and brickworks. It had been rural land into the early 20th century with vegetable gardens and greenhouses that supplied food for the city. Later in the tour we visited the Taylor family cemetery, an important heritage site where a magnificent white oak grows - a hardwood prized for furniture and barrels.
As we walked along I overheard a New Yorker introduce himself and explain that he was there to learn about Toronto's urban forest. Also among the crowd were Michael Charendoff of Toronto and Region Conservation Authority, John Wilson from Toronto Green Community/Lost Rivers Project and well-known Toronto arborist Stephen Smith. Before we went far, a homeowner offered us a pick of plump, juicy apricots from his front yard tree - a pleasant, tasty surprise.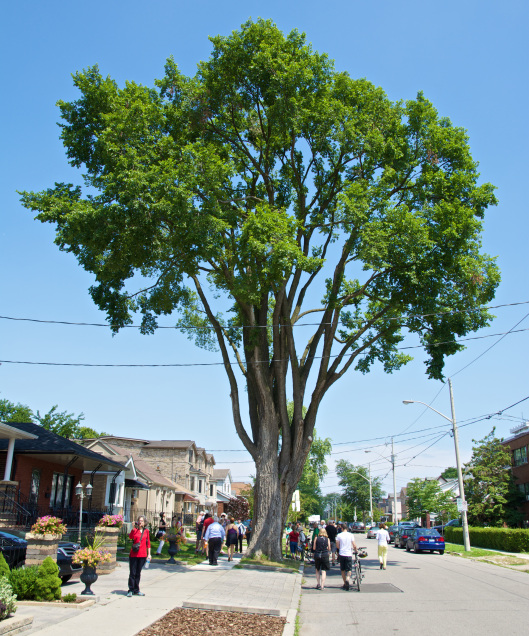 Our first focus was an impressive old white elm that had survived the Dutch elm disease of the mid-20th century, when 80% of elms in Toronto were wiped out. Leigh was eager for us to measure its circumference to see if it qualified for the University of Guelph Arboretum Elm Recovery Project. This project, started by Henry Kock, identifies elm trees greater than 7 feet in circumference that have natural resistance to Dutch elm disease in order to use their genetic makeup to reproduce others. With tape in hand, Leigh and volunteers circled the tree, measuring 13 feet, easily qualifying it for the program!

Our next stop was at the William Burgess School where Councillor Mary Fragedakis told us about plans to replace the asphalt and renew the playground with funding from the Weston Foundation and other sources. Around the school were ash trees in decline from the Emerald Ash Borer. Robyn Stewart, our tour co-leader from LEAF, described the damage caused by the borer and showed us an example of infested ash wood.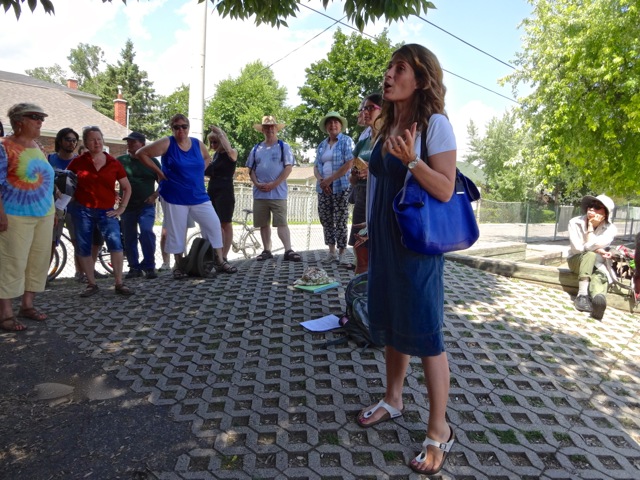 Robyn talked about tree care, watering and mulching. A lady beside me reacted as though a light bulb went on in her head as I heard her say, "Now I know what they mean by mulching! I am going to be a steward on my street!"
Across from the school, Paula Davies, of Todmorden Mills Wildflower Preserve, pointed out a red oak that was determined to be the last of an old oak grove that stood where the school is now. Paula hopes to have this tree designated a Heritage Tree. Then, as if by chance, among us was Edith George, an advisor for the Ontario Urban Forest Council (OUFC) who told us about the Heritage Tree Program, a joint project of Forests Ontario and the OUFC. A second possible heritage tree we saw along the tour was a red oak that dates back to early European settlement.

The tour ended at Margaret McRae's front yard butterfly garden. Margaret is President of the Toronto Field Naturalists (TFN) and she, along with other members of the TFN, have been licenced to raise monarch butterflies. 

A few of us, still engrossed in tree talk, continued in conversation at the Dairy Queen. Thanks to this great tour, Ward 29 is well on its way to an enhanced tree canopy!
Melanie is a resident of East York who owns a city-approved natural garden and two chokecherry trees (the robins love the cherries). She is a member of the Toronto Field Naturalists and the North American Native Plant Society.She has been writing nature articles for the East Yorker.