Submitted by

Matthew Higginson

on August 09, 2013
At a regular checkup a couple of weeks ago, my doctor asked how my allergies were doing. "August 15," he said, "mark it off in your calendar – you're going to have a bad day." It's only recently I've started to experience the symptoms of my allergies – puffy eyes, itchy skin and uncooperative sinuses. Maybe you stepped outside last April to breathe in the fresh, blossom-scented air only to be instantly itchy in the eyes and a stuffed up beyond belief? Or was a camping trip in June slightly annoying because your tent was pitched next to a birch tree? Each spring brings signs both good and bad, and the summer months don't get much better. But at least there's comfort in knowing that we're not alone.
Toronto has been considered one of the six worst Canadian cities for allergies, and each year takes the title for worst and longest allergy season yet. A changing climate is definitely one of the culprits, as rising temperatures invite earlier springs, long, mild falls and late winters - the triple threat can make a bad season worse. Summer droughts - which we're currently experiencing - increase dust and airborne tree pollen. Trees that are particularly stressed will often put out extra flowers in a last ditch effort to procreate. And if we don't do our part to properly care for them , then there is little hope for the allergy-afflicted among us. As a father-to-be, I'm also concerned about the trend of not allowing our kids enough time in the dirt. Limited exposure to the natural environment, on top of antibacterial soaps, sanitizers, fabric and even toys that destroy the beneficial bacteria with the bad, means our immune systems simply aren't experienced enough to know how to react.
Roughly 25% of people in Canada suffer from seasonal allergies which are triggered by different plant species throughout the year. As temperatures start to rise, people are generally vulnerable to tree pollen, ragweed, or grass allergies. Later on, these things can be kicked up in the dust, spun around through our air conditioners, or float down from trees above (as is the case with my cotton wood tree that wreaks havoc on my yard). A common myth is that allergens respect schedules. They don't. And seasonal allergies can pop up at any time, depending on your neighbourhood, and the species you are exposed to.
So here is the why: allergies are a case of mistaken identity. That's right; it can be as little as a single protein in a particular type of pollen that confuses our bodies. Our immune system thinks we're under attack – and so they fight back against these "intruders". And here's the sad irony: it's this overreaction that causes the runny noses, sneezes, watering eyes and itches. One exposure is all it takes. The body will continue to respond the same way every time. And to make matters worse, if a similar protein is breathed in, it can illicit the same reaction - even if it's from a completely different source!
There are options, of course. The CBC put together a really good piece on everything from reducing exposure to injection therapy. My doctor prescribed a nasal spray, eye drops and over the counter antihistamines to help with mine. And this is important because not only to live in a beautiful piece of the urban forest (shout out to High Park), but I'm sworn to protect it – or at least say good things about it – in my role here at LEAF. Ironically enough, birch trees – the ones that make my eyes look like I've been on the losing end of a boxing match – are one of my favourite trees. They make up about 60% of the trees around my cottage, and I would be devastated if they disappeared.

As I write this, pollen counts are pretty low in my city. But according to my doctor, the looming day of doom later this month will be the start of ragweed season. Apparently living in Ontario and Quebec put us at a higher risk of exposure than those living out west.  So what can you do besides hightailing it for the Rockies? Our Native Garden Kits and Backyard Tree Planting Program include many options – so check what you're allergic to and avoid them! I also find that the more I work in my garden the better I feel through the season.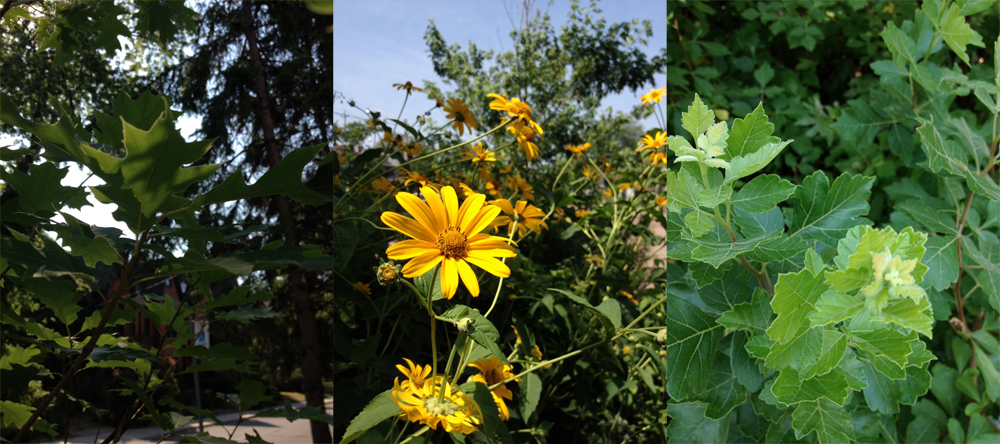 Maybe it's just the placebo effect – or maybe there is something to conquering the outdoors rather than fearing them. How has your summer been impacted by allergies?